DANCE CLASS ONLINE - Indian Folk / Tribal Dances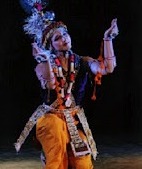 Different dancing styles and forms of dances in India are very ancient and highly developed performing arts. The classical and folk dance styles in India usually have the devotional nature associated with them. All Classical and Folk dance forms in India have two main aspects - Nritta and Nrittya.Indian folk dances and Indian tribal dances are simple dances styles performed to express joy. Indian Folk dances performed by Indian folk dancers and Indian tribal dances performed by Indian tribal dancers are for every possible occasion, to celebrate the arrival of seasons, birth of a child, a wedding and festivals etc.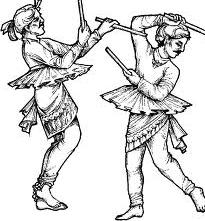 The folk and tribal dances are extremely simple with minimum of dancing steps or dance movements. The regional folk and tribal dances burst with verve and vitality. Male dancers and female dancers perform some dances exclusively, while in some performances men and women dance together. Divya Dance school teaching faculty offers dance classes for learning folk dances / tribal dances / regional dances.
The famous senior Indian Folk dance gurus, Folk dance group teachers and trainers at Divya school of dance teach the art and technique of traditional The famed, awarded and renowned Indian folk / tribal dance groups and dancing teachers faculty at Divya school of dance teach the joyful, celebrative art and technique of the popular traditional Indian folk and tribal dance styles to the dance students. The regional group dance forms and solo dance styles are usually practiced during the festivals and occasions of celebration nationwide or in different states of India. The energetic dance gestures, dance movements, dancing steps, high pitch rhythm, grace, dancing posture, warmth, attitudes and synchronized dance moves are all the very important in learning these dance styles.

The regular folk / tribal dance courses available at Divya dance school centers in India and Online dance courses - lessons available with Divya dance school DM Live Core online classes are in following folk dance styles - Dance hobby courses and Certificate level courses in:

Lok Nrittya / Shetriya Nritya / Adivasi Nritya / Utsav Nrityya

Bhangra Punjabi dance, Gidda Punjab dance, Garba Gujarati dance, Raas Dandiya Brij dance, Bihu Assamese dance, Rajasthani Gypsy dance.
Divya Music presents details on a few major classical and folk dance styles – solo dances / group dances practiced in India. Divya Music offers dance training courses / online dance lessons in a few of the following dance styles:
Bihu Dance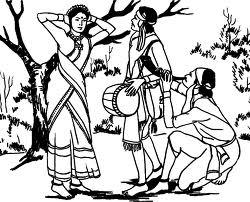 Bihu : The Bihu dance is a folk dance from the Indian state of Assam which is related to the festival of Bihu. This joyous dance style is performed by both young men and young women, it is characterized by brisk dance steps,and rapid hand movements. Dancers wear traditionally colorful Assamese dancers dresses when perform the Bihu dance.
Garba Dance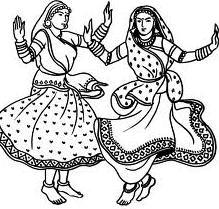 Garba : Garba is a form of group dance that originated in the western Indian state of Gujarat. The name 'Garba' is originated from the Sanskrit term 'Garbha' (womb) and 'Deep' (a small earthenware lamp). Many traditional Garbas are performed by the Garba dancers around a central lit lamp or picture or statues of different avatars of mother Goddess 'Shakti'. Garba dance is usually performed during the nine day festivals called 'Navratri' dedicated to the mother Goddess and celebrated twice a year, The circular and spiral pattern of Garba dance have similarities to other spiritual dances, such as those of Sufi dance culture.
Raas - Dandiya / Garba Dance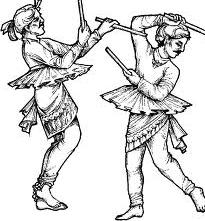 Raas - Dandiya / Garba : Raas or Dandiya Raas dance is the traditional folk dance form of Vrindavan region in northern India, where it is performed depicting scenes of Holi, and 'lila' of Krishna and Radha. Along with Garba dance, the Dandiya dance is the featured dance of Navratri festivities in India. The word "Raas" comes from Sanskrit word "Ras". The origins of Raas can be traced to ancient times. Lord Krishna performed Rasa lila" (Lila means Lord Krishna's playful dance. The word "Lila" also refers to the things that God does that we do not fully understand). There are several forms of Raas including 'Dandiya Raas', 'Dang Lila' and 'Rasa lila'. In Dandiya Raas dance, men and women dance in two circles with sticks in their hands, generally, in a four beat rhythm, opposite sides hit the sticks at the same time, creating a nice sound, using the stick in their right hand. One circle goes dancing clockwise and another dancing counter clockwise. In the west, people don't form full circles, but instead often form rows. Originating as devotional Garba dances, which were always performed in Durga's honour, this dance form is actually the staging of a mock-fight between the Goddess and Mahishasura, the mighty demon-king, and is nicknamed "The Sword Dance". During the dance, Dandiya dancers energetically whirl and move their feet and arms in a complicated, choreographed manner to the tune of the music with various rhythms. The dhol is used as well as complementary percussion instruments such as the dholak, tabla and others. The Dandiya dance sticks (dandiyas) of the dance represent the swords of Durga. The women wear traditional dresses such as colorful embroidered dance choli, dance ghagra and bandhani dupattas (traditional attire) dazzling with mirror work and heavy dance jewellery. The men wear special turbans and kedias, but this varies regionally. Garba is performed before Aarti (worshipping ritual) as devotional performances in the honor of the Goddess, while Dandiya is performed after it, as a part of merriment. Today, Raas is not only an important part of Navaratri festivities but extends itself to other festivals related to harvest and crops as well.
Bhangra Dance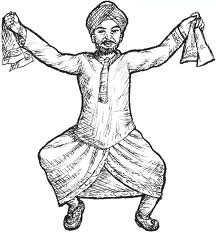 Bhangra : 'Bhangra' in Punjabi (Gurmukhi) is a form of South-Asian form dance and music highly influenced by the culture and language of Punjab state of northern India. Bhangra dance also refers to a traditional, energetic and vibrant festival celebration dance. Bhangra dance began as a folk dance performed by farmers in 11th century to celebrate the arrival of the harvest season. The specific moves of Bhangra reflect the manner in which villagers farmed their land.
Gidda Dance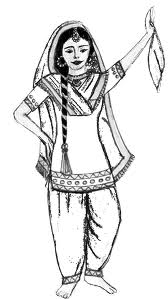 Gidda : Gidda dance(Punjabi-gidha) is a popular folk dance of women in Punjab region of India. The Gidda dance is often considered derived from the ancient dance known as the ring dance and is just as energetic as Bhangra and at the same time it manages to creatively display feminine grace, elegance and elasticity. It is a very colourful dance form which is now performed in different local adaptations in all the regions all across the country.
Lavani Dance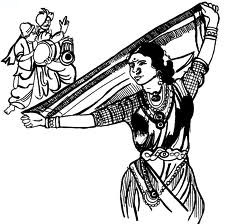 Lavani : Lavani folk dance is a genre of music popular in Maharashtra and southern Madhya Pradesh, Karnataka and Tamil Nadu States of India. Lavani dance is a combination of traditional song and dance, which is particularly performed to the enchanting beats of Dholak, a percussion instrument. Lavani dance style is noted for its powerful rhythm and erotic sentiment. Lavani has contributed substantially to the development of Marathi folk theatre In Maharashtra and southern Madhya Pradesh.
Singhi Chham Dance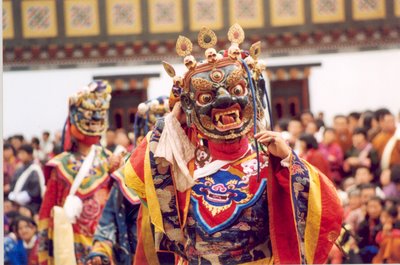 Singhi Chham : Singhi Chham folk dance is also known as Kanchendzonga Dance. It is a folk dance native to Sikkim Region. The word 'Singhi Dance' means the 'Lion Dance'. This masked dance is performed during the worship ritual of snowy range of Kanchenjunga and the local people use this majestic dance as a way to display their cultural symbol.
Kamandi Dance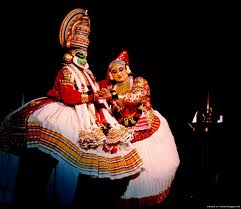 Kamandi : 'Kamandi' or 'Kaman Pandigai' folk dance is celebrated in Tamil Nadu State in southern India. It is celebrated to commemorate the puranic event when 'Manmada' the God of Love was burnt to ashes by lord Shiva in anger. The villagers separate themselves into two dancer groups as Erintha katchi and Eriyatha katchi and a heated debate ensues represented by the consorts - Kaman and Rathi, being the main characters.
Kummi Dance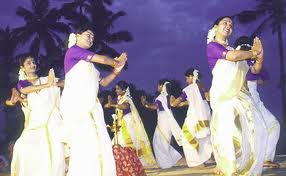 Kummi : 'Kummi' is a folk dance popular in Tamil Nadu and Kerala States of southern India, practiced much by the women of Tamil Nadu state forming a circular dancing pattern. It is usually a festival dance, the dancing pattern may be differ at different places, in some places it is very simple, with rhythmic clapping whereas in other places Kummi dancers imitate various harvesting activities. Kummi is often accompanied by songs, called "Kummi songs".
Kalikapatadi Dance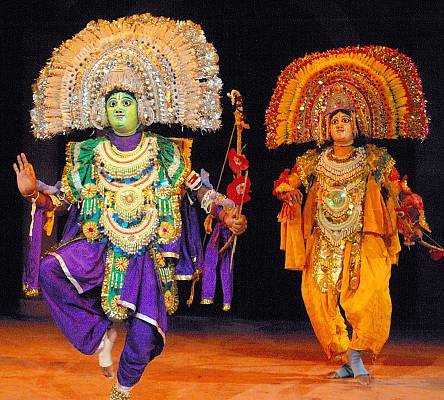 Kalikapatadi : Kalikapatadi dance form is mainly performed in West Bangal state of eastern India, more prevalent in the Howrah region, The theme story of this Kalikapatadi Bengali dance form is 'how Shiva calms down angry Kali after killing Asura (demons)' and on the coronation of Shiva on Neelpuja Day (Chaitra Sankranti) the performance of this dance is a must.
Jawara Dance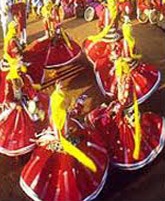 Jawara : Jawara folk dance is performed in the Bundelkhand area of Madhya Pradesh state in central India. It is essentially a harvest dance reflecting the gaiety and pleasure of the peasants who have reaped a good harvest in the season. The dance is performed by men dancers and women dancers together.
Dumhal Dance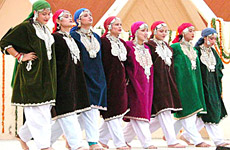 Dumhal : Dumhal folk dance is performed in Jammu and Kashmir state in India. The Dumhal is a dance performed by the menfolk of the Wattal tribe of Kashmir on specific occasions. The dance performers wear long colorful robes and tall conical caps studded with beads and shells. The dance party moves in a procession carrying a banner in a very ceremonial fashion.
Yakshagana Dance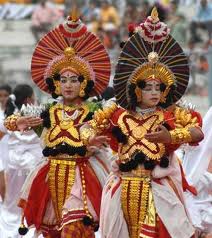 Yakshagana : Yakshagana folk dance is a musical theater popular in the coastal and Malenadu regions of Karnataka state in southern India. 'Yakshagana' is the recent 250 years old scholastic name for what are known as "Dasavatara" (Ten Avatars or ten incarnations of God Vishnu). It is believed to have evolved from pre classical music and theatre during Bhakti (Devotional music) movement. Yakshagana is popular in the Uttara Kannada, Udupi, Dakshina Kannada and Shimoga districts of Karnataka and Kasaragod district of Kerala.
Panthi Dance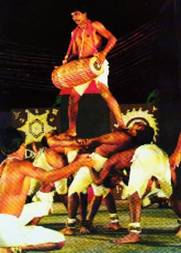 Panthi : Panthi tribal dance is one of the prominent dance forms of Chhattisgarh state in central India. The Panthi dance reflects the rich cultural heritage and traditional legacies of the indigenous tribal groups of the region. Representing the vibrant and dynamic cultural life of the local inhabitants of Chhattisgarh Region. Panthi dance epitomizes the unique dance styles of the state.
Kalbelia Dance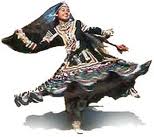 Kalbelia : Kalbelia dance is the one of the most sensuous dance forms of Rajasthan region and is performed by the Kalbelia tribe. The Kalbelia musical dance is performed to celebrate any joyful moment within the community as community dance. It is an integral part of their rich culture. Male dance participants take care of the musical part of the dance. They use the different musical instruments like Pungi, Dufli, Been, Khanjari, Morchang, Khuralio and Dholak to create the rhythm and dancers perform.
Mohiniatam Dance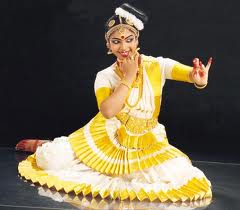 Mohiniatam Dance : 'Mohiniyattam' also Called Mohiniattam is a traditional South Indian dance from Kerala State, developed by the Tamil Nattuvanar Vadivelu, one of the Thanjavur Quartet. It is one of the eight Indian classical dance forms of the India. It is considered a very graceful dance meant to be performed as a solo dance recital by women. The term Mohiniatam comes from the words "Mohini" meaning a woman who enchants onlookers and "aattam" meaning graceful body movements.
Manipuri Dance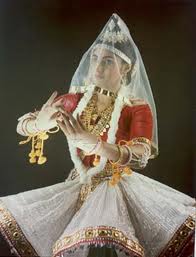 Manipuri Dance : Manipuri dance is one of the major Indian classical dance forms of the India. It originates from Manipur state in north eastern India on the border with Myanmar. In Manipur, surrounded by mountains and geographically isolated at the meeting point of the orient and mainland India, the Manipuri dance form developed its own specific aesthetics, values, conventions and ethics.
Odissi Dance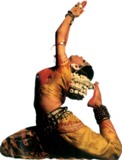 Odissi Dance : Odissi dance is one of the eight classical dance forms of India. It originates from the state of Odisha (Orissa), in eastern India. It is the oldest surviving dance form of India on the basis of archaeological evidences. The classic treatise of Indian dance, Natya Shastra, refers to it as Odra-Magadhi.
Kuchipudi Dance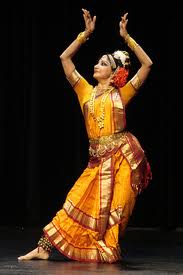 Kuchipudi Dance : Kuchipudi or 'Koochipoodi' is a classical Indian dance form from Andhra Pradesh state of southern India. Kuchipudi is the name of a village in the Divi Taluka of Krishna district that borders the Bay of Bengal and with resident Brahmins practicing this traditional dance form Kuchipudi dancers are quicksilver and scintillating, and rounded and fleet footed, performed to the classical Carnatic music, it shares many common elements with Bharatanatyam Dance Form.
Kathakali Dance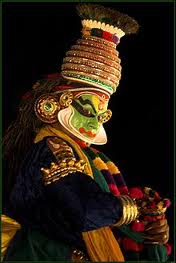 Kathakali Dance : Kathakali Dance is a highly stylized classical Indian dance noted for the attractive make-up of dancing characters, elaborate dance costumes, detailed dance gestures and well-defined body movements presented in tune with the anchor playback music and complementary percussion. It originated in the state of Kerala in southern India during the 17th century and has developed over the years with improved looks, refined gestures and added dance themes besides more ornate singing and precise dance drumming.
Kathak Dance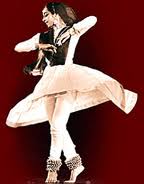 Kathak Dance : Kathak Dance is one of the eight forms of Indian classical dances, originated from Uttar Pradesh State, India. Kathak dance form traces its origins to the nomadic bards of ancient northern India, known as Kathaks, or storytellers. These bards, performing in village squares and temple courtyards, mostly specialized in recounting mythological and moral tales from the scriptures, and embellished their dance recitals with hand dancing gestures and facial expressions.
Bharatnatyam Dance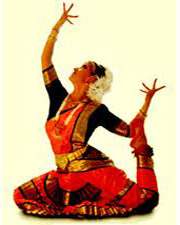 Bharatnatyam Dance : Bharatanatyam or Bharata Natyam is a classical dance form from the South Indian state of Tamil Nadu, nowadays practiced predominantly by girls.It is held as the national dance of India. The dance is accompanied by classical Carnatic music. Its dance inspirations come from the sculptures of the ancient temple of Chidambaram. Bharatanatyam proper is a solo dance, with two aspects - 'Lasya', the graceful feminine lines and movements, and 'Tandava' - Ananda Thandavam (Tamil - the dance of Shiva), masculine aspect - which is identical to the Yin and Yang in the Chinese culture.
Chhau Dance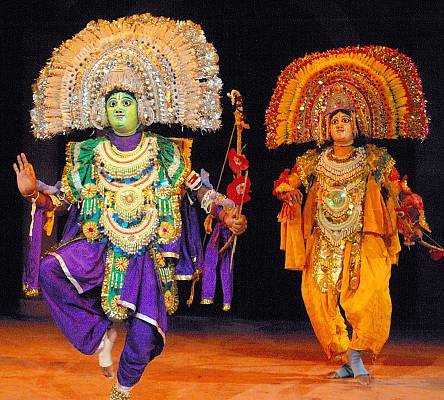 Chhau : Chhau has its origin in the martial art form of Eastern India and has branches in three different places. In Chhau style dancers also use real masks. All branches have dance names related to the names of places.

1. Mayurbhanj Chhau dance, developed at the palace named Mayurbhanj in Orissa state of India
2. Seraikela Chhau dance, this dance was developed at a place called Seraikela in Bihar state of India
3. Purulia Chhau dance, it was developed in Purulia in West Bengal state of India

These all three Chhau dance style have their own identity and integrity. Chhau dance is also based on Hindu Mythology and actors play their character of mythological heroes & heroines like Durga, Shiva, Ganesha & kartikeya etc.
DM Live Core - ONLINE DANCE CLASSES by Divya Dance School offers the top rated online dance learning with the following unmatched features:
• Top Qualified, best experienced Professional dance teachers from all over the world
• Live, one on one, real time interactive online dance lessons for students of all levels
• Flexible time schedules of the online dance class lessons for international students
• Well defined curriculum for all levels of learning, developed by the global dance experts
• Advanced dance E-books learning content & dancing practice tools / tips for all levels
• Save on travel time and the cost of travelling to the dance teacher / dance school
• Safe & convenient option for kids, children, women and elderly to learn dance online
• Affordable, low cost price dance learning fees for the best online dance class lessons
• Convenience and comfort of learning dance at home as a private dance class lessons
• Online dance lessons for beginner, intermediate & advanced levels of learning dance
• Join the appropriate level dance classes after individual evaluation & the expert opinion
• Private and group online dance classes for all age groups and dance learning levels
• Learn with top rated Divya Dance school, a global dance school with international faculty
• Get dance expert opinion feedback on the performance with the improvement tips
• Multilingual online dance class options to learn Indian classical, folk & global dance styles
• Online dance lessons in English / Regional Languages for Non Resident Indians - NRIs
• Better consistency & concentration, least missed classes due to flexible online classes