DM Live Core : Dance Lessons Online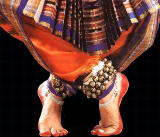 Divya Music offers the DM Live Core online certificate courses and online short term hobby courses in dance especially conceived for the kids, children, young adults, school, college and university students. Online dance lessons are for people of all age groups interested in learning dance online.

DM Live Core online dance classes aims at helping a new learner to understand and practice the basics of the popular dance styles through live dancing lessons, real-time, interactive, one on one online dance sessions with the best dance teachers, top dance instructors, famous dance gurus.